What is CBS's Electrical Power Generation Business?
CBS has long maintained a focus on energy management and has worked to promote energy conservation at local sites.
In recent years, the company has also been focusing its efforts on renewable energy. We have initiated our own solar electrical power generating business and, as a company able to actively offer environmental energy solutions, we are helping to reduce the overall environmental impact of electrical power generation.
CBS is currently working on generating environmentally friendly solar electric power at three locations in Japan.
1. Two Megawatt Generating Project in Hiroshima City, Hiroshima Prefecture
This is a solar electrical power generation project to be located in the Grunen Nyuno housing complex planned by the Hiroshima Prefectural Housing Corporation. The complex is to include a school and will also be utilized as an element of the children's aesthetics education.
(Planned commencement of generation is August 2014)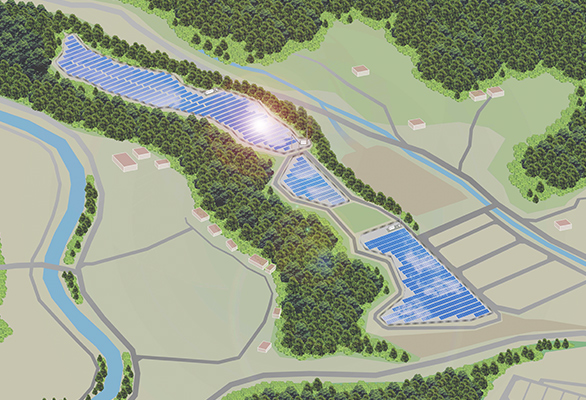 2. Four Megawatt Generating Project in Mibu, Tochigi Prefecture
This is an electrical generation project that consists of two plants, each with a capacity of two megawatts, for a total output of four megawatts, located next to the owner of the property.
(Planned commencement of generation is July 2014)
3. Four Megawatt Generating Project at AMIC, Ibaragi Prefecture
Utilizing a facility owned by a current customer of CBS, the plan is to generate four megawatts of power through a pair of two-megawatt plants, with the resulting power output to be shared with the customer.
As in the case of facility management, it is possible to reduce the risk of a decline or interruption in generating output by way of a good aftercare maintenance program. Once power generation commences, CBS will manage and maintain the facility, thereby establishing and gaining additional expertise in management tools and methods for solar electrical power generation.
Looking toward the future, by proposing and putting into practice energy management solutions that take into consideration the creation, conservation and storage of energy, we intend to contribute to the protection and preservation of the environment and to the betterment of society as a whole.