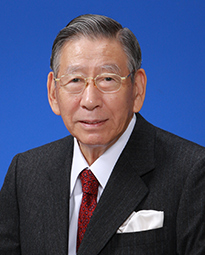 Over the more than fifty years since our founding in 1960, we at CBS have worked to develop a variety of services to contribute to our customers' businesses, as a comprehensive building management company.
We seized on buildings as a management resource in the early days and have continued to expand our business while considering how to utilize buildings, facilities and environments most effectively, and how to deliver optimal results to our customers.
The surrounding environment has changed dramatically, and influenced our customers' value outlook and needs, following the Great East Japan Earthquake on March 11, 2011—coming as it did on the heels of the global recession that followed the collapse of Lehman Brothers, along with growing ecological concerns. We intend to offer the highest quality of service, by determining current customer desires as quickly as possible, while keeping a close watch on the tides of change through communications with our customers.
I feel that every employee should have a strong drive towards continual improvement and provide services beyond the frame of conventional business by presenting new ideas to customers. This is the attitude that will enable us to earn their continued trust, and to maintain our steady growth for the next fifty years.
Innovation—this is the key to our overall strategy for growth.
Part of our strategy is to participate fully in renewable energy generation. We will launch a solar powered generating plant at Grunen Nyuno, a town geared to environmental coexistence in East Hiroshima, in August 2014, and will use this achievement to work toward additional business in this field. At present, we are promoting and accelerating these types of projects in three locations in Japan. As with building energy resources and developing measures for energy conservation, as an energy producer, we will help to provide a stable power supply and contribute to efficient energy management well into the future, focusing also on energy storage.
In the conventional building management business, we will contribute to achieving a lower carbon, more energy efficient society, by promoting energy visualization and making efforts to improve building energy efficiency for businesses. At the same time, we will protect our customers' security by concentrating on our security business and utilizing new technologies to address the evolving era of ubiquitous camera and smart phone use.
Another axis of our growth strategy is global business development. We established a new company in Myanmar in July 2013. And we will provide support in building management environments for those who plan to forge ahead in expanding their business overseas, and for customers in other Asian countries, while making the most of the building management expertise we have accumulated in Japan.
No matter what changes may occur, the most important thing for us is to manage our customers' precious assets safely and securely. Our major business, after all, is building management. At CBS, we are particularly focusing on education for new graduate employees, who will be responsible for looking after our customers' assets in the future. After two years of hard work, training in daily business activities under in-company leaders, they become able to work independently as valued partners of our customers.
We will continue working to enhance each employee's credentials, in order to earn the loyalty of our customers as "a people and technology company," and to continue to grow as an innovative company able to provide new and enhanced value to our customers.
CBS President
Hideho Nishimura