What are CBS IoT Solutions?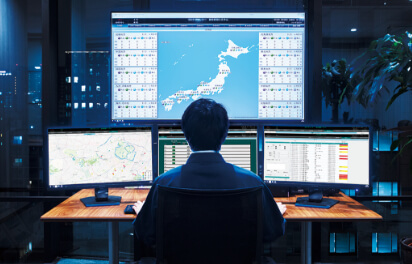 The rapid progress and diffusion of IoT and AI technologies have dramatically changed the nature of cities and buildings. The needs and preferences of tenants and workers are also diversifying, with the emergency of new office paradigms such as "Shared Office." In response to this evolution, we offer smart building solutions that optimize building management through the integration of people and technology. At CBS, we are creating a new wave in the building industry by combining IoT, AI and the cloud with the maintenance expertise we have accumulated over the years since our founding.
Features of CBS IoT Solutions
Open system enables quicker, simpler and more affordable implementation with easy expansion options
IoT energy and cost savings help to deliver a rapid return on investment
One-stop service from design and installation to maintenance
Complete backup system with CBS integrated monitoring center
Total Solution Standard Plan for Small and Mid-Sized Facilities
Providing new building management capabilities with the latest sensing technology and IoT equipment.
IoT Sensing System
Communication and computing functions are integrated into all equipment from the host PC to each sensor, with automatic plug-and-play connection and coordination for one-stop implementation of the management system. Unlike in conventional buildings, where lighting, air-conditioning, sanitation and security systems have been installed and managed separately, CBS IoT systems link these systems to enable centralized management, resulting in substantial cost savings.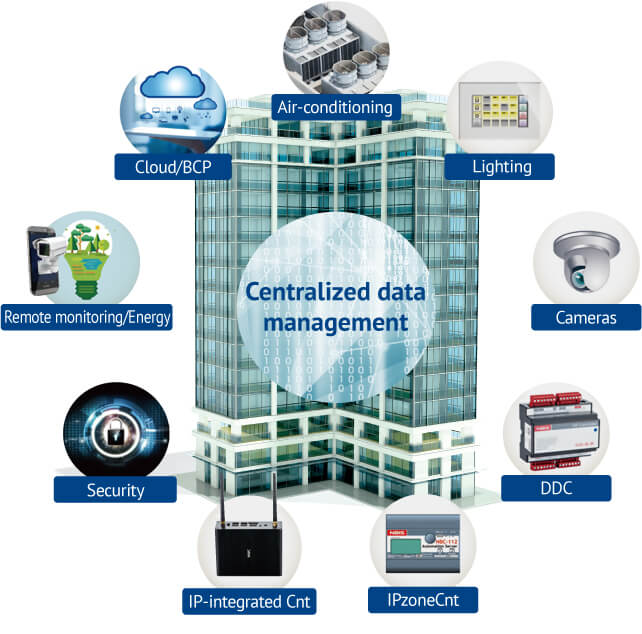 Open system delivers flexible, responsive control regardless of the manufacturer.
CBS Integrated Monitoring Center
The CBS integrated monitoring center supports efficient energy management and operation by monitoring and controlling your facility 24 hours a day, 365 days a year. Collectively monitoring buildings, without a manager on site, it can grasp even abnormal or emergency situations and respond promptly. In addition, by collecting and managing data day after day, it can help to create more comfortable and efficient operating environments. Allowing facilities to be monitored and controlled from the standpoint of both building and tenant, it creates an optimal balance for the facility and operation as a whole.
Total Solution Options Plan for Small and Mid-Sized Facilities
Options plans allow systems to be tailored to individual customer requirements.
In order to meet diverse tenant needs, CBS IoT systems offer a variety of options to realize the "building of choice" from the perspective of both building owners and tenants, regardless of whether the building is new or existing.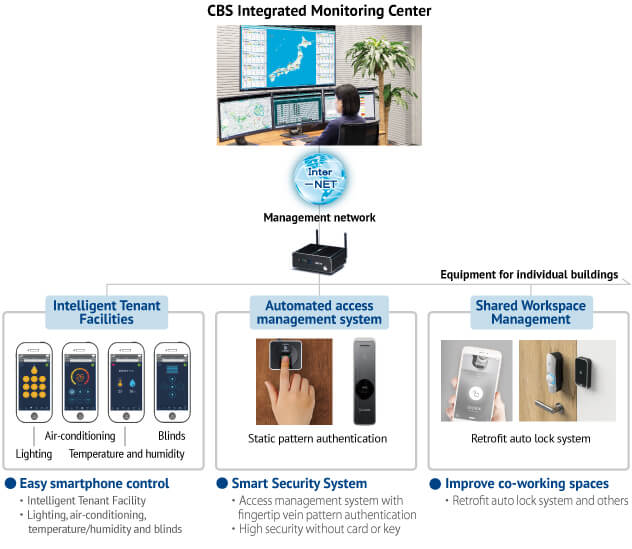 Work Flow from Initial Request to Implementation
Field survey/consultation (one week)
Our personnel visit the site to check the current configuration, consult with facility staff, respond to owner requests and resolve any issues.

Submission of initial and operating cost estimates (two weeks)
Based on field surveys and interviews, we estimate cost savings and payback period for the recommended system configuration.

Consultation on management system and facility operations (two weeks)
Meetings provide an opportunity for us to propose and discuss an optimal operating system, including cloud-based remote maintenance and energy management, along with maintenance and cost considerations following equipment installation.

Submission of final estimate (two weeks)
We submit a final estimate after reviewing all considerations above.

Ordering
Clients simply fill in the required items on their order form or ours to submit.

Construction (one month)

System activation
*The standard schedule is shown above, assuming no unanticipated complications arise.
Comparison before and after implementation
Sample cost reduction using CBS IoT solution rather than on-site facility management.
The majority of a facility's management cost is the labor cost for on-site staff. CBS can dramatically reduce this cost through upgraded equipment and automation. Further cost reductions can be realized in periodic inspections and upgraded operating efficiency.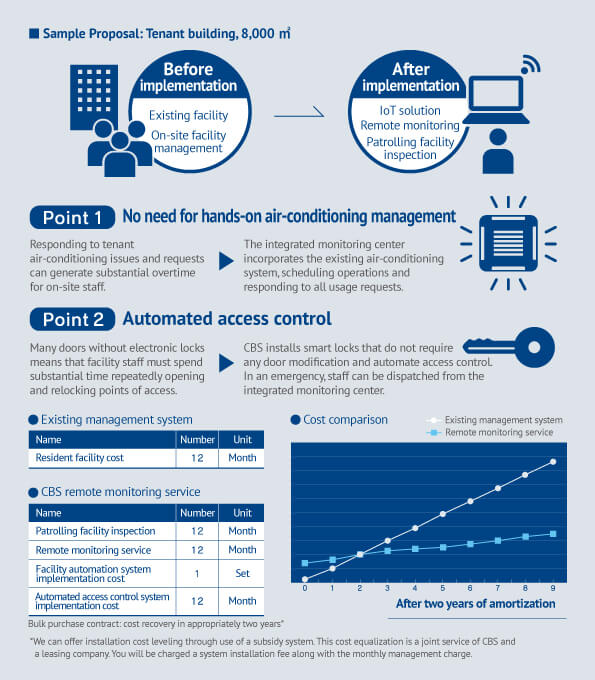 For Inquiries
Value-added Business Group
New Technology Energy Solution Business Group
TEL:03-3506-5497
Office hours: 9:00 to 18:00 (excluding Saturdays, Sundays and holidays)
For Inquiries