Looking beyond domestic borders
Over the more than 50 years since our founding in 1960, CBS has handled a broad variety of buildings and facilities as a comprehensive management company. We have looked after our clients' valued assets and interests, keeping their lifecycle costs in mind, with the ultimate goal of helping to assure safe, secure and sustainable facilities and enhancing the value of their real property.
Now, with the expertise and experience accumulated through our operations in Japan, we have initiated the establishment of a facility management services company in Myanmar.
This country, considered by many to be one of the last frontiers, is expected to play a major role in the further development of ASI. Going forward, it is also positioned to be a country of strategic importance in a geopolitical sense, bordered as it is by China, India and Thailand.
We will be making extra efforts in order to help companies expanding into Myanmar achieve optimal maintenance of their valuable facilities and create comfortable working environments. We will also strive to contribute in whatever way we can toward the development of Myanmar and the building of a beautiful country.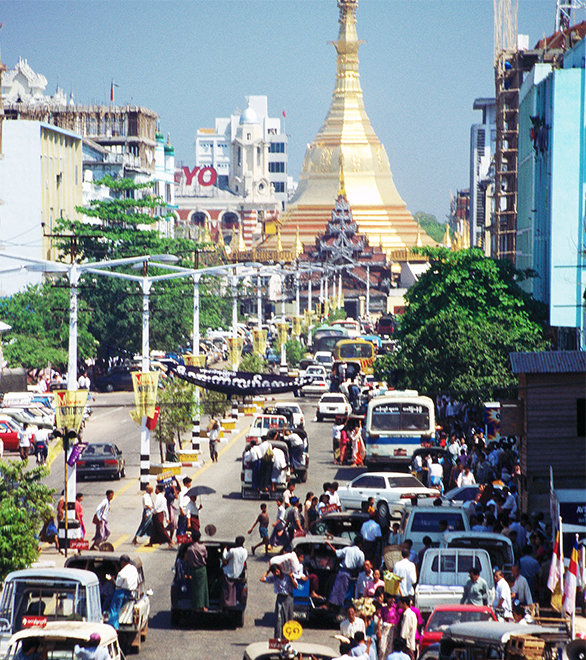 CBS Myanmar Corporation Ltd. Company Overview
Corporate Name

CBS Myanmar Corporation Ltd.

Address

No141/145 3rd Floor(R) United Tower
Bo Aung Kyaw Street, Kyauktada Township
Yangon, Myanmar
Executives

CEO Tamami Kosaka

Directors

Keihachi Ikegami, Toyoji Kojima, Yasuhiro Kokubu, Masataka Unoike

Establishment

July 2013

Facility management services (comprehensive facility management)
Energy management
Security system
Topics: Managing Energy by Making Energy Visible
Myanmar is the center of much attention as a country beginning to open to development after restrictive long-term rule by the military government. Now, both public and private sectors are joining forces to initiate reforms and quickly recover the time lost during this period. However, the country still faces substantial areas of difficulty, including lack of infrastructure and undeveloped legal systems.
Among other challenges, energy is a key issue, with 70 percent of current power dependent on hydroelectric generation, and additional new capacity needed to be brought online.
CBS intends to propose and promote efficient utilization of Myanmar's limited energy resources, using our existing base of know-how in conjunction with new technologies. Specifically, by utilizing Global BEMS, we plan to make energy usage visible and thereby encourage optimal utilization and conservation. In addition, CBS will endeavor to actively develop the use of renewable energy resources.