What is CBS Renewable Energy and Environment Related Business?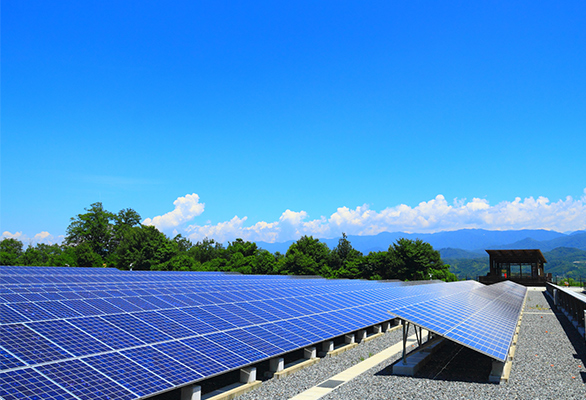 Moving toward Renewable Energy
CBS has been studying the introduction of renewable energy from the perspective of caring for the environment and averting global warming, even prior to the commitments that were made in the Kyoto Protocol. After the Great East Japan Earthquake on March 11, 2011, and amidst the resulting major shift in Japan's energy policies, the expectations for renewable energy have grown even stronger.
People have become keenly aware of the preciousness of electricity. Seizing on this heightened energy awareness, CBS has been promoting energy management leading to the introduction of renewable energy sources that are clean and effectively free of greenhouse gases. Specifically, CBS is proceeding with a series of solar power generation projects, each with 2MW capacity, in three locations around the county, including an electricity generation business in Hiroshima.

Introducing Energy Conservation and Other Environmentally Related Equipment
It is said that, in general, 70% of the electricity consumed in office buildings is used in illumination and air conditioning equipment. CBS is aggressively proposing energy conservation measures, including the replacing of lower efficiency equipment and making energy usage visible. By introducing LED lighting and BEMS, CBS is helping customers recognize their energy consumption and identify improvements in operations and management to better meet their needs.
Renewable Energy
Solar Powered Electrical Generation
Wind Powered Electrical Generation
Environmentally Related Equipment
High Efficiency Lighting
LED Lighting
High Brightness After-Glow Luminous Adhesive Tape and Seal
Environmentally Related Business
Below is a diagram of the flow in energy conservation diagnostic and energy consulting services.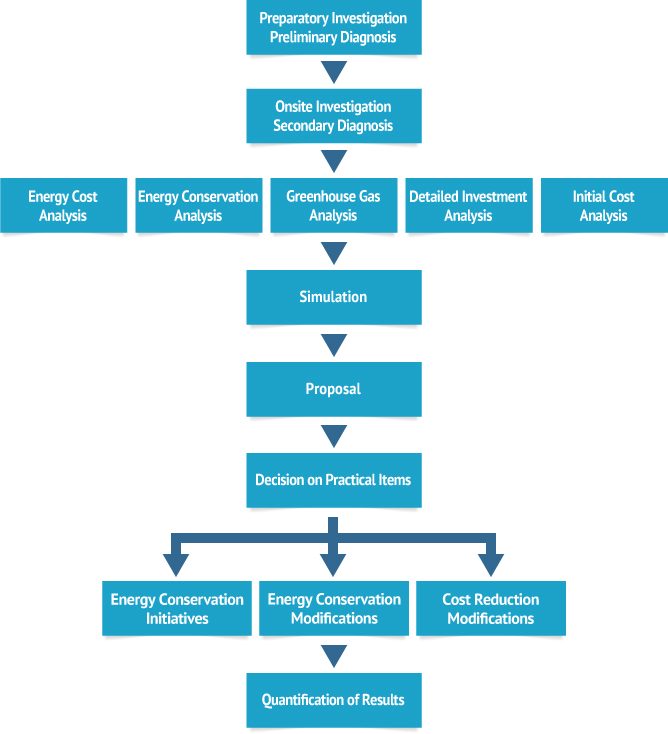 Urban Wind Power Generation Has Become the Symbol of a Major Newspaper Building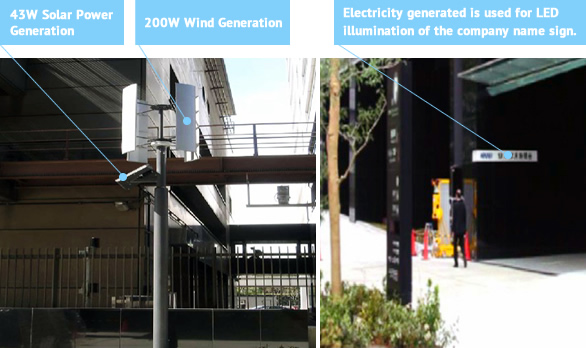 Installed in front of the front entrance of the newspaper's head office building, this installation has become symbolic of the new building's focus on reducing environmental impact.
A hybrid wind and solar system for urban use, it produces electricity even at low wind speeds. The energy generated is stored in a remote battery, located in the control board, and is used, among other things, for LED interior lighting in the company sign.
Higashi Hiroshima Grüenen Nyuno Mega-Solar Electric Generation Plant to Begin Operations August 2014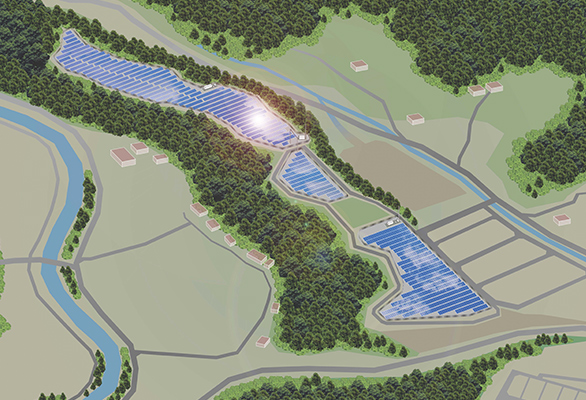 A 26,579.48㎡ mega-solar electricity generation plant will make its debut within the site of the environmental cohabitation town, Higashi Hiroshima Grunen Nyuno.
Annual generation will be 1,820 kW, enough to supply the electricity consumed in 520 ordinary households
| | No 1 Generation Plant | No 2 Generation Plant | Total |
| --- | --- | --- | --- |
| Site Area | 180,83.64㎡ | 849,5.84㎡ | 26579.48㎡ |
| Electrical Generation Capacity | 1,248kW | 572.12kW | 1820.12kW |
| Solar Power Panels | 5,200panels | 2,384panels | 7,584panels |
| Power Conditioner | 1,000kW | 500kW | 1,500kW |